IT Support as a Service
You deserve IT consistency with a LOCAL human face!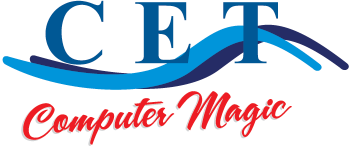 Windows updates, hardware drivers, antivirus software, device monitoring, third party software updates – sometimes keeping your computer updated and secure can be overwhelming. Managed Services is the process of contracting with IT professionals to handle all that and more. Whether you need simple monitoring, managed antivirus software, on-demand remote support, planned on-site support, or our entire spectrum of managed support resources, CET Computer Magic offers first class, local managed services for businesses and home users backed by our local technicians who can even come out to your office or home when necessary. We're available (just around the corner) to assist you with your computers and network!
Workstation Packages
Max Protection package includes
Remote Management and Monitoring
Managed Antivirus
Unlimited Helpdesk
Patch Management
Pro-Active Management
Other services services available
Monthly Reporting
Business Continuity & Data Recovery Services
Managed Office 365 Business Standard Licenses
Managed Office Apps for Business Licensing
Unlimited Pre-Paid On-Site Support
Server Packages
Max Server Protection package includes 
Remote Management and Monitoring
Managed Antivirus
Unlimited Helpdesk (On-Site Additional)
Patch Management
Pro-Active Maintenance
Monthly Reporting
Quarterly Technology Reviews & vCTO Services
Business Continuity & Data Recovery Services (Unlimited)
Add-Ons
Virtual Server
Network Equipment
Router/Firewall
Switches
Access Points
Network Printers
IT Support as a Service Inquiry